4 Rock-Crushing Off-Road Modifications in Rowlett, TX You Need Today!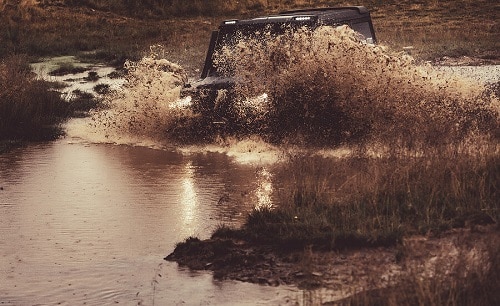 Whether you're looking to dominate the trails in Rowlett, TX or explore new roads on the outskirts of Dallas County, your vehicle must be ready to perform. However, most vehicles cannot deliver the rock-crushing, mud-slinging domination you deserve. 
Fortunately, the team at Accelerate Auto Repair in Rowlett, TX can help. We specialize in performing premium custom modifications to prepare your vehicle for your next adventure. But unless you're an experienced off-roader, you may not know what kind of mods you'll need to tackle rugged terrains in Rowlett, TX.
At Accelerate Auto Repair, we are your local team of offroad customization experts. We specialize in helping our clients achieve the offroad ruggedness and performance they deserve. Don't hesitate to reach out to the mechanic at Accelerate Auto Repair in Rowlett, TX for offroad customizations. 
In the meantime, continue reading to learn more about the top offroad customizations you can use to elevate your performance to the next level.
1. Offroad Lift Kits in Rowlett, TX
One of the challenges of off-roading is that you'll encounter unusual obstacles. Most stock vehicles lack the ground clearance you need to manage whatever is next. 
Failure to have the correct ground clearance means a simple rock can represent a mountain of trouble. However, the right lift kit and suspension modifications can give you the extra ground clearance and confidence to tackle even the roughest terrain.
2. Custom Wheels and Mud Tires
Before you stray off the beaten path, the next custom modification you'll need is upgraded feet, which are your wheels and tires. 
Standard all-season tires aren't built to deal with mud, gravel, and uneven terrain. Mud tires, by contrast, are more puncture-resistant and built to maximize grip. 
Most importantly, adding a set of custom wheels and mud tires will infuse a certain gravitas that traditional wheels can't. Besides, you want your custom modifications in Rowlett, TX to look good, too…right?
3. Custom Offroad Lighting Solutions
One of the funny things about the road less traveled is that it gets darker at night than you think. Most people don't realize the amount and impact artificial light has on our environment. But you'll figure it out pretty quick when you're away from civilization. 
That's why you'll want to add a heavy-duty light bar or additional accessory lighting to your offroad vehicle. Custom lights are critical for lighting your path and giving you the confidence to venture where others may not dare.
4. Body Armor
When you kit out your SUV or truck for extreme conditions, most of the mods you'll add are aimed at maneuverability. But if you're going into rugged terrain, you'll want some added protection in the form of body armor. 
From custom bumpers and fenders to rock rails and tubular doors, there are several options you can use to toughen up the exterior of your vehicle. These can be the key that opens the door for you to handle some serious off-roading.
Contact Accelerate Auto Repair in Rowlett, TX For All Of Your Off-Road Modifications Needs
If you're ready to take your truck or SUV off the pavement and into the wild, don't go unprepared. Fortunately, Accelerate Auto Repair in Rowlett, TX can help. Our experienced mechanics can help you choose the most appropriate offroad modifications for your next adventure.
Contact Accelerate Auto Repair in Rowlett, TX today by calling 469-501-5115 or stop to see us at 5201 Grisham Drive in Rowlett, TX 75088.
Had An Awesome Experience With Us Recently?
Have you recently brought in your vehicle to be serviced or repaired with us? We would love to hear all about it! Click the button below to leave your review.