Accelerate Auto Repair installs accessories and makes modifications to off-road vehicles. Our auto technicians take pride in doing things right the first time and the mechanic working on your vehicle has world-class skills to create the off-road vehicle of your dreams. Some of the off road installs and modifications we provide include lift kits, suspension work, wheels and tires, lighting, roll cages, tonneau covers, bumpers, lighting, side steps, winches, running boards, and more.
Contact Accelerate Auto to make an appointment to discuss the off road installs and modifications you want for your vehicle.
Suspension, Lift Kits, Wheels and Tires
Whether you want a basic leveling kit or a complete body lift, our auto technicians are ready to make it happen for you. We'll install custom shocks, bushings, steering stabilizers and other custom suspension parts you need to make your vehicle go in the craziest off-road places.
If you want larger wheels and tires, you'll need to upgrade the suspension to handle them. Bigger rubber adds more weight to the vehicle. Depending on where you decide to go with the bigger wheels and tires, you might have to consider a body lift. We have aluminium, steel or custom made wheels, tires of all shapes and sizes. Your wish is our command. Scroll down to check out our most popular brands.
If you just want something that looks better than stock wheels or you want to change the look of your vehicle, you can choose from aluminum, steel, or custom-made wheels to fit the tires you want. We carry or can order many popular brands.
Side Steps, Running Boards and Bumpers
Many stock trucks and SUVs are pretty high, which makes it hard to get into the truck, especially for those who are vertically challenged. Adding side steps or running boards not only gives your vehicle a different look, but they come in handy for getting in and out.
Off-roaders also like bigger bumpers – they protect the front and rear of the vehicles while bouncing around on trails. You can choose from several types of bumpers that cover the front, start to wrap around the side of the vehicle, or wrap all the way around the front corner of the vehicle.
We also install tire carriers and adapters, spare tire relocator kits, bumper end caps, storage containers, cargo trays, Nerf bars & steps, bed-mounted steps, power running boards, running board extension arms, trailer hitch steps, bumper guards, front bumpers, rear bumpers, brush guards, grille guards, electric steps, and more
Additional Offroad Accessories
We don't stop at tires and suspension. We also install lighting and lighting accessories, including fog lights and work lamps, roll cages, custom doors, fender flares, tops, air suspension systems, towing systems, winches, and more.
We're also here to help with
Body Parts and Roll Cages
Brakes and Steering
Bumpers
Custom Doors and Related Accessories
Drivetrain and Differentials
Fenders, Flares & Racks
Interior Parts and Accessories
Jeep Replacement Parts
Tonneau Covers
Tops
Towing and Air Systems
Winches & Recovery
UTV Accessories and Mods
Custom Paint Applications For Your Offroad Vehicle
Accelerate Auto Repair is proud to offer custom Kevlar® and Raptor paint applications for trucks and Jeeps. As a premium provider of Kevlar® paint application in Texas, our team has exactly what you need to safeguard your truck or Jeep.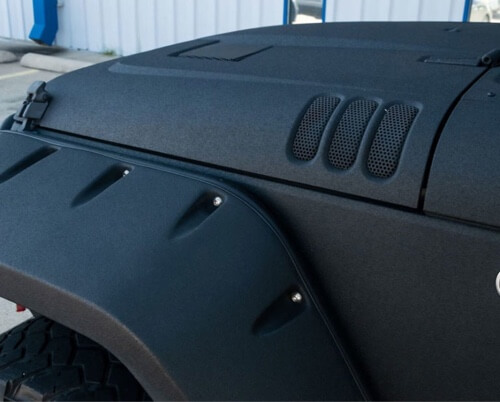 Contact Accelerate Auto Repair for Quality Auto Repair
Whether you need maintenance or repairs on your daily driver, performance car, classic, antique, or off-road vehicle, give us a call at the shop at 469-501-5115 to schedule an appointment. If your car needs to be towed, please give us a call when the tow truck leaves to let us know your vehicle is on its way to us.