Your Guide on Proper Muscle Car Maintenance
Whether your classic muscle car is a long-term investment or just for fun, maintenance is key in getting everything you want out of owning it. With proper care, your beastly vehicle can exceed your every expectation and keep the excitement going through all your travels. But just what does it need to stay in fantastic shape? Find out with a look at this helpful guide to proper muscle car maintenance from our team at Accelerate Auto Repair.
Have Inspections Done by a Skilled Tech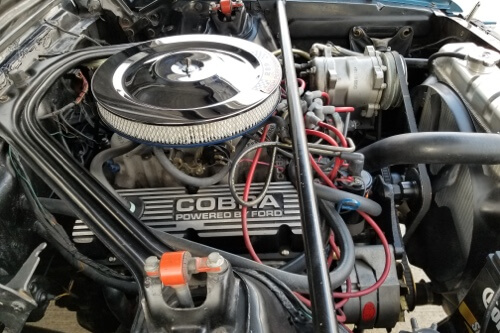 Major part failures don't usually come out of nowhere. The signs are typically there well ahead of time, waiting for the keen eye of a skilled auto tech. So, do yourself a big favor and bring your muscle car in to Accelerate Auto Repair and have it looked over from nose to tail on a regular basis. The best time to do so is when you bring your car into the shop for preventative maintenance services, although you can come in any time you feel like your vehicle needs a good look.
Follow the Recommended Service Intervals
How often you need to bring your car into the shop for preventative maintenance depends on many different factors, such as:
Its year, make, and model

Current build specifications

Total number of miles on the clock

How often you drive and where

The way you drive it around
Your technician can take the basic recommendations from the manufacturer and adjust them to best match the needs of your vehicle. Then, they will let you know just when to swing by the shop and get your car fixed up with new fluids, filters, and more.
Always Use the Right Automotive Fluids
There's perhaps nothing worse than keeping up on your maintenance services only to find out modern engine oil allowed for the excessive wear of the lobes on your camshaft. Unfortunately, that's exactly what happens to flat tappet cams due to the lack of zinc in new oil formulas. And it doesn't end there, either.
The fact of the matter is that modern automotive fluids do not always play nice with classic muscle car parts. So, make sure to leave the work to a tech well-versed in which fluids to use for the vehicle in question.
Take It for a Spin on the Regular
Your classic car is undoubtedly safe and sound right inside your garage, but just sitting around is not actually great for its moving parts. The engine needs to run and wheels need to turn to keep everything in fantastic condition. Otherwise, your seals could dry out and fail, leading to leaks, excessive wear of internal parts, and a whole lot worse.
Clean It Well and Store It Right
Before you put your car away at the end of your adventures, take a little time to clean it up inside and out. The care you put into maintaining the paint and interior will go a long way in keeping it looking its best. Then, put it back into covered storage that's protected from the elements. With that move, you can just wipe down the exterior and hop in for an amazing drive, no prep time needed.
If you want to partner with a team who knows how to treat classic muscle cars right, look no further than Accelerate Auto Repair in Rowlett TX. We can handle all of your muscle car maintenance needs to protect your investment and keep you having a blast on every drive. Give us a call at 469-501-5115 to learn about our services and get your car on the schedule.
Had An Awesome Experience With Us Recently?
Have you recently brought in your vehicle to be serviced or repaired with us? We would love to hear all about it! Click the button below to leave your review.