The suspension, wheels, and tires on your vehicle not only give you a comfortable ride but also help keep you safe while you're on the road. With the right wheel and tire package, you can entirely change the look of your vehicle. When you need suspension, wheels, and tires, contact Accelerate Auto Repair for an appointment.
Your vehicle's suspension consists of several components to make the vehicle ride smoothly. The suspension also affects how your vehicle takes corners and dictates how much you can haul or tow. It helps to keep the tires on the road, and it helps with steering.
The suspension consists of:
Ball joints

Bushings

Coil springs or leaf springs

Control arms

Strut assemblies

Sway bars

Tie rods

Shocks

 
When your vehicle is out of alignment, a suspension tech can make adjustments to the suspension to realign it. In some cases, the alignment could be out because of worn bushings, tie rods, and other suspension or steering parts.
When you want to change the look of your vehicle, a great place to start is by changing the wheels. You have many types of wheels to choose from. Upgrading from painted steel wheels to aluminum wheels with a design that you like can make a lot of difference in the looks of your car. And, it could mean the difference between that second place and first place trophy at a car show.
You can also change the size of your vehicle's wheels, within reason. If a taller wheel fits in the wheel well, you can add a taller wheel – but you'll need to change the tire size.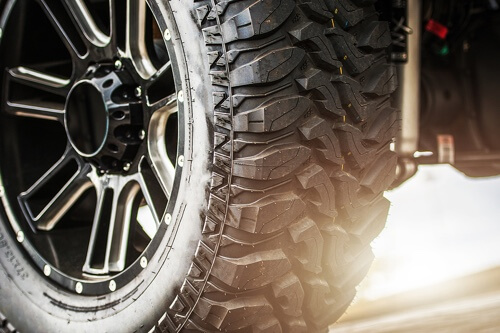 You can even add a wider wheel/tire combo for better road contact. The ASE Certified auto technicians at Accelerate Auto Repair can tell you what size wheels are interchangeable on your vehicle. Changing the height also affects the width of the wheel and vice versa.
Most vehicles come with all-season tires. However, you can change that if you prefer street performance, all-terrain, or mud and snow tires. You can also change the size of your tires, though if you want to go wider or narrower, you may also have to change the wheels. Tires also have different speed ratings to help with performance. If you greatly increase your vehicle's horsepower and push the limits of the tire's rating, you'll need to upgrade your tires.
Performance Upgrades for Suspension, Wheels and Tires
Changing the suspension, wheels, and tires can also affect the performance of your vehicle. Looser shocks give a poorer ride, but they let the vehicle hook up better if you're a drag racer. Stiffer shocks and springs can sometimes give a smoother ride unless they are too stiff – then you'll end up with a bumpy ride. But they can do wonders for performance and allowing the vehicle to take curves tighter and faster.
Contact Accelerate Auto Repair
If you are looking to change how your vehicle rides, you want a better ride, or you just need suspension repairs and tires for your daily driver, contact Accelerate Auto Repair to discuss your wants and needs, and to make an appointment to bring your vehicle in.