Accelerate Auto Repair and Collision
Toyota Repair in Rowlett, TX
For quality Toyota repair in Rowlett, TX, turn to Accelerate Auto Repair and Collision's I-CAR Certified technicians. We use only high-quality parts and provide expert service, including horsepower and performance upgrades. Our experienced technicians are equipped to handle everything from minor issues on your Toyota like burnt-out light bulbs to more complex repairs, body work, and preventative maintenance.
At Accelerate Auto Repair and Collision, we have state-of-the-art diagnostic equipment to accurately diagnose and repair your Toyota the first time. Whether you need routine maintenance or more extensive repairs, our skilled I-CAR Certified auto technicians have you covered.
To schedule an appointment for Toyota service and repair, simply call our shop. We'll get you back on the road in no time.
Toyota Maintenance in Rowlett, TX
As with any vehicle, you have to maintain your Toyota to keep it in good running condition. From the tires to the fuel injection, your prized Toyota will leave you stranded just as quickly as any other vehicle if you don't keep up with maintenance. 
Toyota maintenance includes:
Checking the tires for wear patterns and low tread; and balancing and rotating the tires

Checking the

brakes

for wear and leaks and replacing brake pads, if possible, before they start scoring the rotors

Checking the fluids, including brake fluid, oil, transmission fluid, power steering fluid, and coolant and topping them off when necessary

Checking for coolant leaks

Changing the oil and filter and checking for oil leaks

Lubing the door latches and hinges, sunroof tracks, and power antenna.

Checking the

steering and suspension

Checking belts and hoses

Checking for transmission leaks and changing the filter and fluid (We'll flush the transmission fluid when needed.)

Checking and topping off the gear oil.
Your owner's manual should have a maintenance schedule for you to follow. If not, call Accelerate Auto in Rowlett, TX. We can tell you which service you need at certain mileage intervals.
Toyota Repair in Rowlett, TX
As with any other vehicle, your Toyota has wear and tear items, such as belts and hoses, brake pads and rotors, tires, water pumps, alternators, batteries, and more. 
When it's time to repair your Toyota in Rowlett, TX, our ASE Certified auto technicians use OEM parts and will take care of your vehicle as if it were their own.
Other common Toyota repairs include:
Timing belts or timing chains

Fuel filter replacement

Water pump replacement

Alternator replacement

Replacement of

suspension

and steering components

Air conditioning and heating repair
Some of these items (such as a timing belt) should be changed as recommended by the manufacturer. Since we can't see items inside the engine, there is no way to tell you if that repair is upcoming other than to go by mileage or time driven.
For visible items, we'll check them when you bring your vehicle in for maintenance and let you know if some needed repair is on the horizon.
Toyota Diagnostics in Rowlett, TX
Toyotas use control modules and computers to get the most out of the engine and transmission. 
The computers rely on sensors to tell them what is happening to adjust the fuel and air mixture as needed. Other sensors let you know what is happening, such as the coolant temp sensor.
Because you can't look at these electronic components and tell if they are bad or not, they send a code to the computer. In turn, the computer lights up the check engine light or other malfunction indicator lamp on the dashboard. This is to alert you when something isn't working properly.
An I-CAR Certified mechanic in Rowlett, TX, uses diagnostic equipment to retrieve the codes and determine what is wrong based on the code and other diagnostic information. The tech can then make the appropriate repair.
Just because the computer sends an oxygen sensor code doesn't mean the oxygen sensor is bad. It could also mean that the sensor is receiving readings indicating another problem, such as another faulty sensor, leaky injector, or a vacuum leak.
Our Toyota diagnostic equipment in Rowlett, TX, tells us more than just diagnostic codes. It lets us know when a diagnostic code could be a sensor or something causing the sensor to send a bad reading.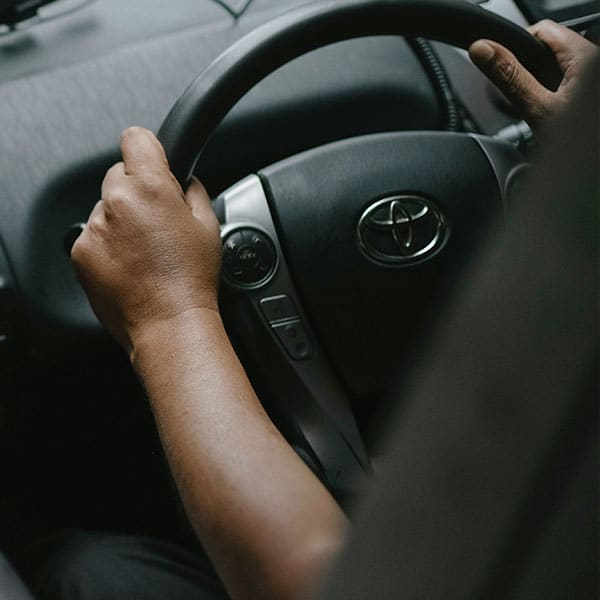 Contact Accelerate Auto Repair and Collision in Rowlett, TX
If you are looking for quality Toyota repair in Rowlett, TX, stop by our shop. 
See why our customers keep bringing their European cars to us for repairs and maintenance. You'll find that our techs have tons of Toyota service and repair experience and a smile for everyone.
Whether you need Toyota repair or service, a check engine light diagnosed, or you want to add upgrades to your Toyota, contact Accelerate Auto Repair at 469-501-5115 for an appointment.