Installing a turbo is usually easier than installing a roots-type blower, but you still have to take special precautions. The ASE Certified auto technicians at Accelerate Auto Repair can install a turbo on an engine that has never had one or can replace or upgrade a turbo that failed. The type of engine you have will determine the type of turbo we can install, including the amount of boost the engine can handle.
Gas and Diesel Turbo Installation
Our performance techs can install a turbo on a gas or diesel engine. We'll get the specs for your engine and let you know which turbos will work with the engine. If you want more boost than your engine can handle, you'll end up being into some money – either with a new crate engine or a performance rebuild of your current engine.
The more boost you add to the engine, the stronger the engine needs to be. Some turbos might require stronger parts, such as a steel crank, stronger springs in the heads, special pistons and rings, stronger rods, or even o-ringing the cylinder heads.
Tips for Turbo Installation
When we install a turbo, we always take certain steps to make sure the installation goes smoothly, especially if we are replacing a failed turbo. These steps include:
Changing the oil and filter to ensure the turbo is getting a supply of fresh, clean oil..

In the case of a turbo failure, cleaning the boost tubes and intercooler. Broken pieces in the cool air side of the turbo can be sucked into the engine and could cause extensive damage. If anything got into the oil in the intercooler, it could also cause engine damage; thus we need to clean or replace the intercooler if your vehicle had a turbo failure.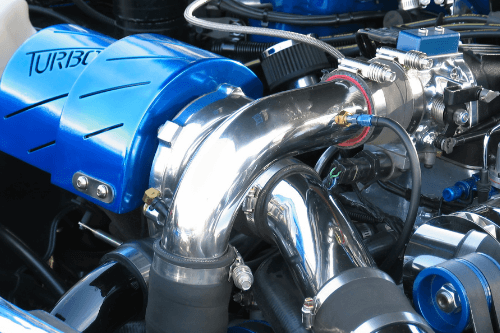 If you are replacing a failed turbo, we'll check the boost hoses and tubes for cracks and wear. The intake hoses must be in good condition or you could have leaks, which could cause poor performance.
ASE Certified Performance Techs
Our performance auto techs have ASE Certifications and attend continuing education to keep their certification up to date. We are familiar with installing performance parts, including turbochargers and superchargers on gas and diesel engines in classics, antiques and modern vehicles.
We use only quality parts and brand name turbocharger kits to make sure you have a great experience with a long-lasting turbo installation.
Contact Accelerate Auto Repair for More Information on Turbo Installation
If you are considering installing a turbo or you need to replace an existing turbo, give us a call at the shop to discuss your wants and needs. We'll have you bring your vehicle in for an inspection to determine which turbo is the best for your vehicle based on your engine's size and age.
If your vehicle broke down because the turbo failed, instruct the tow truck driver to bring your vehicle to Accelerate Auto Repair. Give us a call when the driver is on the way to let us know that your vehicle is coming in for turbo work.