Muscle cars are becoming harder and harder to find. When you find one in good enough condition to restore at a reasonable price and get it home and start checking it out, you may realize that it needs more work than you anticipated. The bones are good, and there's not a lot of rust, but there will be if you don't get it under control. Soon.
Even if a muscle car is in decent condition, it takes a lot of work. If you don't have the right tools or experience in restoring vehicles the work can be overwhelming. Accelerate Auto Repair has everything needed to restore your muscle car to its original condition and, in most cases, can even get new old stock parts. Contact us to make an appointment with our restoration mechanic to discuss your muscle car restoration project or to discuss muscle car service and repair.
After many years of sitting or even many years of driving, all cars will get dents and scratches. Whether your muscle car sat around, the previous owner drove it a lot, or even if you've had it for a long time and want to freshen it up, our auto restoration technicians can make your vehicle look brand new. From repairing the smallest dent to completing a frame-off restoration, we have the knowledge, experience and the tools to get it done.
Bodywork we perform includes – but is not limited to:
Tubbing and mini-tubbing

Frenching

Replacing fenders

Removing dents and scratches

Replacing panels

Replacing floors and trunks

Fabricating custom ho
Muscle Car Service and Repair
As with any vehicle, muscle cars require service and repair. You can also upgrade your muscle car to have additional horsepower and torque by adding a different camshaft, upgrading the carburetors, or converting it to EFI.
 Regular maintenance includes:
Oil and filter change

Lube

Tuneups, including setting points if you have the older style distributor

Checking and topping off fluids

Flushing and changing the coolant

Flushing the transmission fluid and changing the filter

Checking and replacing wear and tear items such as belts, hoses, brakes and tires
Common repairs include:
Water pumps

Alternators and batteries

Brakes

Suspension

Coils and distributors

Air conditioning and heating
Finally, you can also make many upgrades, including:
Upgrading a points distributor to HEI distributors such as MSD

Adding MSD or Jacobs ignition

Upgrading a timing chain to a Pete Jackson gear drive – if you love to hear that whine!

Upgrading or changing the suspension for different applications, including drag racing

Adding blowers and turbochargers

Roll cages

Ladder bars and other specialty suspension and framework for racing

Flowmaster and other custom exhaust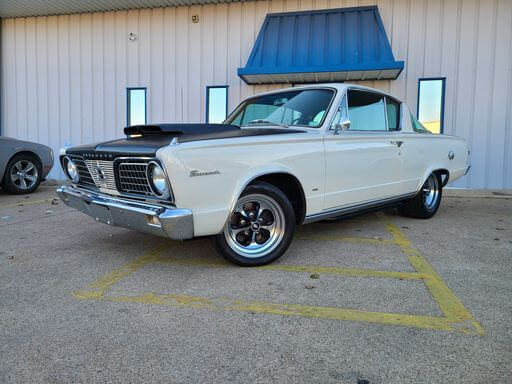 Contact Accelerate Auto Repair
Whether you need regular maintenance, you're ready to do a complete restoration, you need a paint job, or you want to do some upgrades, Accelerate Auto Repair is ready to help you bring your muscle car to life. Contact us at (469) 501-5115 to schedule an appointment and discuss your wants and needs.