How-To Apply Kevlar Coating to your vehicle
Kevlar Coating is a chemical made by DuPont. It makes your vehicle's paint job more durable and attractive. That means that you are less likely to see scratches, dents, and rust on your vehicle. DuPont's Kevlar Coating has a tensile strength of 4700, which means that it can resist most scratches and door dings. You'll significantly reduce maintenance to your vehicle's paint job, giving you more time to enjoy your vehicle.
If you want to protect your vehicle's paint, our body mechanic at Accelerate Auto Repair can apply this coating in Rowlett, TX. In addition to preventing most scratches and dents, Kevlar Coating also protects your vehicle from the elements of nature and eliminates the tedious job of waxing your vehicle. Once Kevlar Coating has been applied, as long as you keep it maintained, it will last a lifetime.
If you consider having Kevlar Coating applied to your vehicle, here are the steps that we follow at Accelerate Auto Repair to help you better understand the process. Once you have a better understanding, the decision to call and schedule an appointment with us will be easy!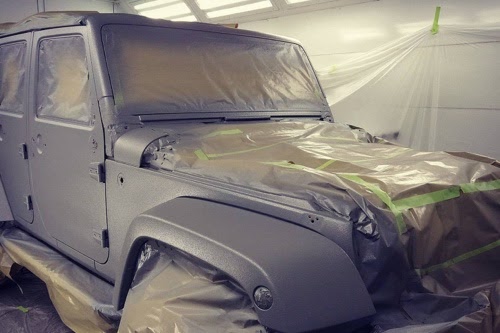 How to Install Kevlar Coating in Rowlett
Before our experienced Kevlar application techs at Accelerate Auto can apply the Kevlar Coating, we must prep the vehicle.
Step 1. We thoroughly clean the exterior of your vehicle with soap and water and rinse it completely.
Step 2. We then remove all exterior components that do not receive the application, including window trim, door handles, badging, and exterior trim. When Kevlar Coating is being applied to a truck, we will separate the bed from the frame. In doing so, this helps to spray the back of the cab and the front of the bed completely.
Step 3. We realign any misaligned panels and repair any exterior damage, such as scratches, gouges, door dings, and fender dents (additional charges apply for bodywork). We then tape and cover all the windows and areas around the vehicle that do not get the application but cannot be removed.
Step 4. We sand and prep the vehicle to remove wax and other residues so that the coating adheres properly.
Step 5. Once all the prep work is complete, we spray on the application, which allows us to get a consistent coat over the entire vehicle to the client's requested texture.
Step 6. We then bake the vehicle so that the coating adheres correctly.
Step 7. Finally, we reinstall all the items we removed, check the application to make sure it's even, and do a final cleaning of the vehicle.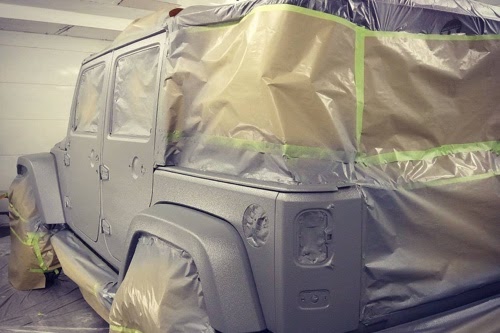 Contact Accelerate Auto
The process is time-consuming and takes several days. Larger vehicles and those with a lot of trim take longer. If you need bodywork, it could take a few extra days, depending on the extent of the bodywork. But, the time is well worth it! When your vehicle is completed, the Kevlar coating will significantly minimize scratches and minor dents. It will keep your vehicle protected, which also increases the value should you want to sell it. If it seems like you are getting a parking lot ding or someone always seems to be hitting your vehicle with their car doors and scratching your vehicle, contact the office at Accelerate Auto to make an appointment for Kevlar coating.
Had An Awesome Experience With Us Recently?
Have you recently brought in your vehicle to be serviced or repaired with us? We would love to hear all about it! Click the button below to leave your review.