How Much Ground Clearance Is Enough for Off-Roading?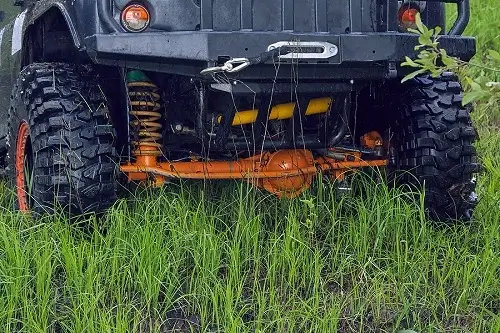 While we love passenger sedans for everyday driving, they are not suited or equipped for rock-crushing, mud-slinging off-roading adventures. In fact, many vehicles are not fit for tackling mild to rugged terrain. 
To ensure your vehicle is ready to go where the pavement ends, it's crucial to have suitable off-road modifications. And one undeniable criterion of most capable off-roading vehicles is ground clearance. 
But how much ground clearance is enough? Let's look at how high is high enough when venturing off-road. 
Ground Clearance Guidelines for Off-Roading Vehicles
The right amount of ground clearance varies based on several factors. One is the type of off-roading you plan on doing. For instance, graded mountain tracks, mud-slinging, rock crawling, and sand dunes require different off-roading configurations, including the minimum ground clearance. 
Here are a few rules of thumb:
Off-roading over gravel tracks? The minimum ground clearance can range anywhere from 6.6 inches up to 8.7 inches.
Overlanding? Good ground clearance can be anywhere from 8.8 inches up to 9.4 inches. 
Rock crawling? If you want to master tough rocks and boulders, your off-road modifications should have a minimum height of 10.8 inches. 
Off-roading on tough graded 4×4 tracks? Like rock crawling, you will need a minimum height of 10.8 inches to enjoy the adventures you want! 
Ground Clearance Is Just the Beginning for Real Off-Roading
In addition to ground clearance, other measurements should be considered when choosing off-road mods. Here are a few:
Approach angle: The maximum angle between the lowest part of your front bumper and a potential obstacle. It's the steepest hill your 4×4 can climb without slamming your front bumper against a slope or rock.
Departure angle: It is like the approach angle but for your rear. It measures the steepest gradient you can encounter without bashing or scraping your rear bumper against a slope or rock. 
Break-over angle: A measurement between the rear and front wheels and the lowest part of your truck or SUV in the middle. It represents the steepest crest your vehicle can tackle without high-centering.
In any case, adding a lift kit and increasing the size of your tires can help with break-over angles and ground clearance. 
Where Can I Find the Best Off-Road Modifications & Accessories in Rowlett, TX?
The minimum suggested height is just the beginning. Several additional factors should be considered when choosing the best off-road modifications. 
At Accelerate Auto Repair, we are your local off-roading specialists in Rowlett, TX. Our team can help match your needs to the best off-road modifications, like suspension, lift kits, tires, wheels, bumpers, and more. 
We don't just install the best and baddest off-roading equipment. We also provide invaluable guidance and consultation. We will listen to your needs, goals, and aspirations to guide you to the best, most cost-efficient off-road modifications. 
Call us at 469-501-5115 or fill up this form. You can also stop by at 5201 Grisham Dr., Rowlett, TX 75088.
Had An Awesome Experience With Us Recently?
Have you recently brought in your vehicle to be serviced or repaired with us? We would love to hear all about it! Click the button below to leave your review.